INEOS Job Fair Announced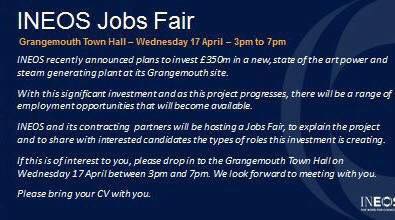 INEOS recently announced plans to invest £1bn in the UK, including £350m in a new, state of the art power and steam plant at their Grangemouth site.
https://www.ineos.com/sites/grangemouth/news/ineos-is-investing-350m-in-a-new-state-of-the-art-energy-efficient-power-plant-at-its-grangemouth-site/
With this significant investment and as this specific Grangemouth-based project progresses, there will be a range of employment opportunities that will become available.
INEOS and its contracting partners will be hosting a Jobs Fair at the Grangemouth Town Hall on 17th April from 3pm - 7pm to explain the project and to share with interested candidates the range of roles this investment will be creating.
The new energy plant investment is just one element of the renaissance of the petrochemical site that began back in 2013. Demolition of old manufacturing plant and buildings is making way for future developments and investments. In 2016, the business completed construction of a high-quality modern office accommodation and business headquarters. We continue to drive forward plans to develop a truly competitive chemical sciences cluster, exploiting the key advantages of our location, infrastructure and supply of US shale gas ethane as a feedstock.